Art Clearance Sale Offers Exceptional $8 Million Return to Cbus
"I didn't think it would get this far," Deutscher said. "But it's not unreasonable to think of a Preston top at that price – and it was a dazzling picture – when you have new works by Cressida Campbell at $420,000… Preston is such an important figure in the Australian art that she deserves to be half a million and up. It's a price adjustment that's long overdue.
Preston was, of course, an important influence on Campbell, who also had work in the Cbus sale, an early acrylic on paper painting, which rose $2,000 above its high estimate to sell for $9,000. When the painting was last auctioned in 1991, it fetched $500.
The work of modernists was highly favored, such as that of New Zealand-born Miller. His cubist-like painting Trees in a quarry, created from around 1952 to 1956, surpassed its high estimate of $200,000, to sell for $380,000 (hammer). Considered one of the best works by the reclusive artist, the painting was previously in the Mertz Collection of Australian Art and has been exhibited in Washington D.C. and widely in Australia, lending it added prestige.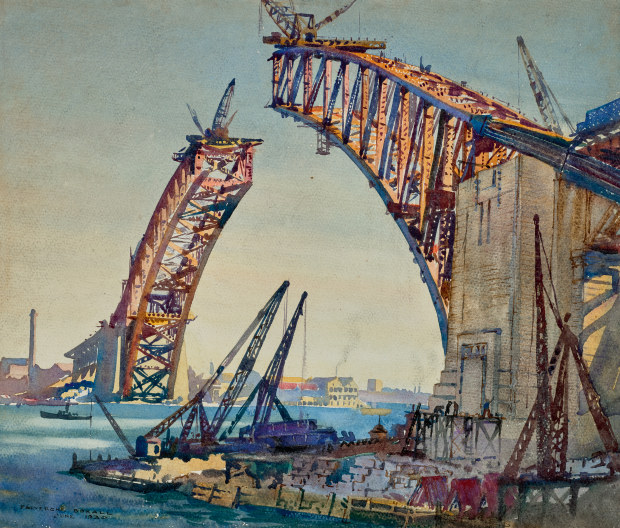 "Of its kind, it was the most exceptional work at auction," said Deutscher. Trees in a quarry has more than doubled in price since 2000, when it sold at auction for $180,000 (hammer).
Syme's Tuscan landscape, another modernist work from the 1920s, reached four times its high estimate, to go for $120,000. The painting is double-sided, with an image of Siena on the back, giving the new seller two paintings for the price of one.
Boxall's Building of Sydney Harbor Bridge, 1930, was certain to draw attention to nostalgic value alone. It sold for $38,000 (hammer), more than double its high estimate of $15,000 and nearly 10 times its 1990 hammer price of $4,000. The painting had been on long-term loan to the Benalla Art Gallery in Victoria.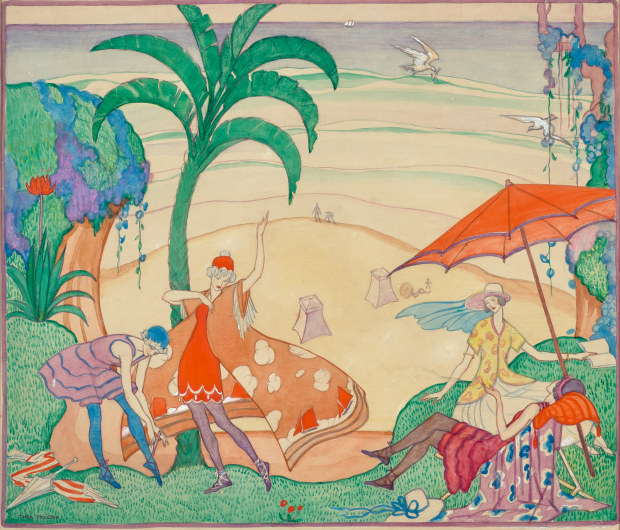 "It's a really striking image of the harbor bridge, it's a dynamic modernist work for a fairly lowly realist artist, so again people reacted to the energy of the image," Deutscher said.
Buyers also responded to Proctor's immense delight The beach, circa 1923, which soared $27,000 above its high estimate to sell for $42,000 (hammer). Proctor was a peer and colleague of Preston.
Hall creates a much more subdued and dark mood in his painting In the studiocirca 1924, but it too was well received, selling for $60,000, against a high estimate of $35,000, doubling in price since its last auction 22 years ago.
Hall was Principal and Professor of Painting at the National Gallery School in Melbourne for 43 years, and this painting, as its title suggests, depicts his studio in Melbourne, on the south side of the State Library of Victoria. The dome of the Royal Exhibition Building can be seen through the studio's large arched window.
Hall used fellow artist Septimus Power as the central model. Also pictured are Hall's wife, Grace, and their children. And while we're busy making connections, Preston studied at the National Gallery School, first with Frederick McCubbin and then with Hall.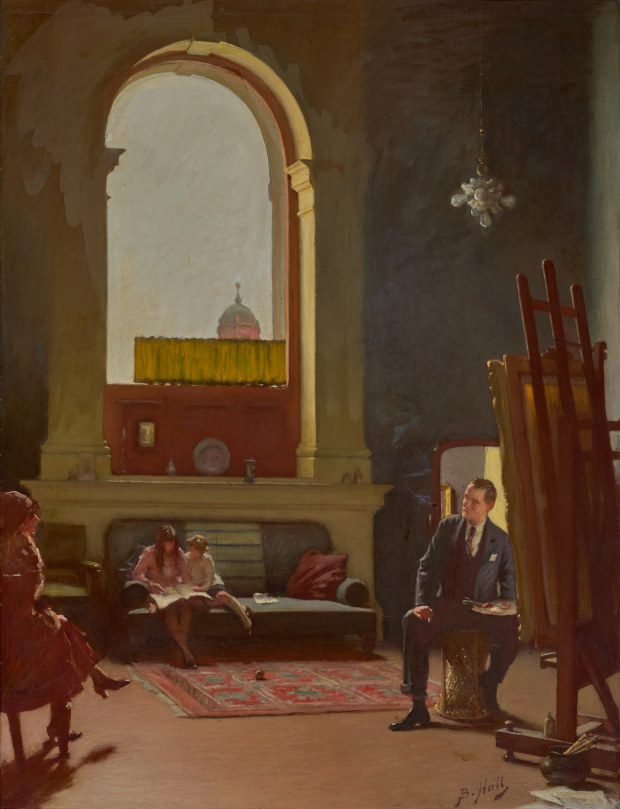 The cover lot of the auction, that of Sidney Nolan Cross the river1964, did not disappoint, rising $80,000 above its high estimate to sell for $880,000 (hammer), making it a $1 million work with the addition of the cost of buyer (25% of the hammer price, GST included).
by Arthur Boyd Shores of Shoalhaven and large stones1981, also performed very well, doubling its low estimate to sell for $500,000 (hammer).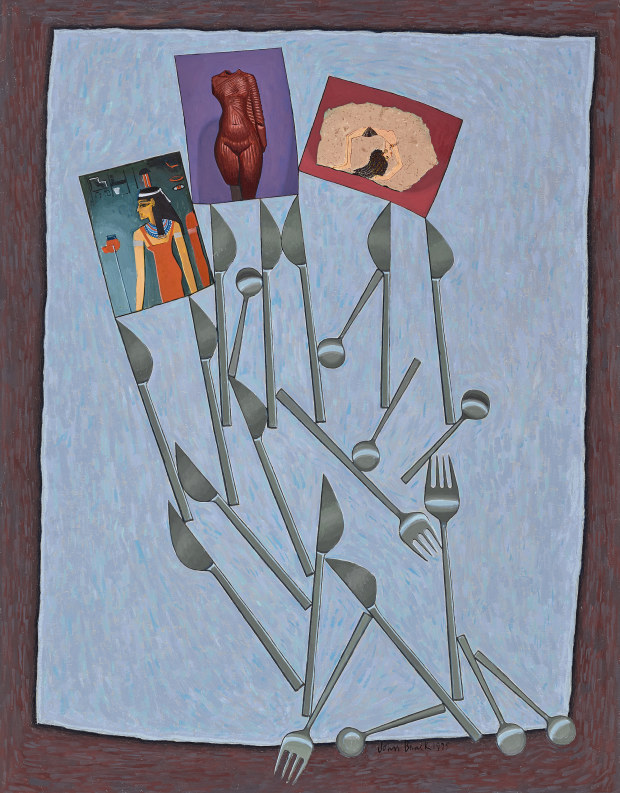 But it should be noted that other paintings by so-called top-notch artists sold well below their low estimates, such as John Brack's. three egyptian women1975, which had an estimate of $100,000 to $150,000 but sold for $80,000 (hammer).
"The selling strategy was to balance the excesses with the lacks," Deutscher said. "Overall, there was a lot more excess."
The end result bears witness to this: the sale exceeded its low estimate of 5.5 million dollars to reach 8 million dollars (hammer), a good return for the pension fund which, in 1990, decided to invest 2 million dollars in Australian art. And there are still three online-only auctions left before the entire Cbus collection is sold.
Cbus declined to comment on the results, but Deutscher was unequivocal when asked if the super fund's art collection had been a worthy long-term investment.
"Absolutely," he said, predicting that the entire collection "will end up in the $11-12 million area rather than the $9 million we were originally talking about."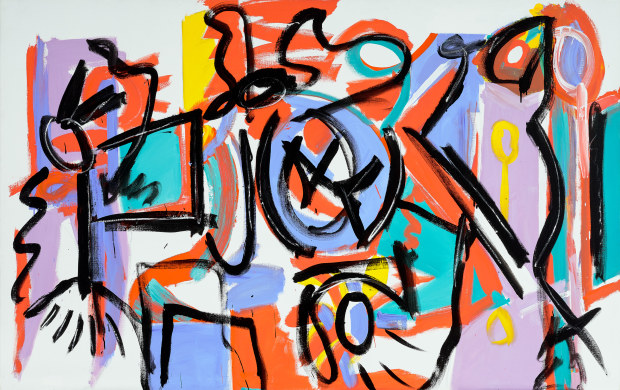 What is clear, however, is that it pays to collect on a large scale if art as an investment is to pay off.
"You get your 'blue chips' and your 'tech stocks,' which are speculative," Deutscher said.
Saleroom got a taste of two works in the upcoming 71-lot sale of the Cbus Collection auction, which focuses on modern and contemporary art, which goes live Thursday at 11 a.m.: the colorful abstract by Dick Watkins Scoopof 1991, and the curious of Tim Storrier Kennel Memory IV – Red Roof, 1987, both with an estimate of $15,000 to $20,000. Bidding for the online-only auction ends Tuesday, August 9 at 7 p.m.